BitcoinClassic Has Reached An Ecological Partnership With CoinMarketCap
Recently, Bitcoin Classic has reached ecological cooperation with CoinMarketCap, and CoinMarketCap has added a link to Bitcoin Classic's official website to the friendship partner.CoinMarketCap is one of the most authoritative cryptocurrency data services websites in the world, and has a huge influence in the encryption industry.The ecological cooperation between Bitcoin Classic and CoinMarketCap marks the initial results of Bitcoin Classic in the global brand building, and the global layout.
Bitcoin Classic's official website has been added as a friendly partner by CMC
Bitcoin Classic's website adds CoinMarketCap as a friendship link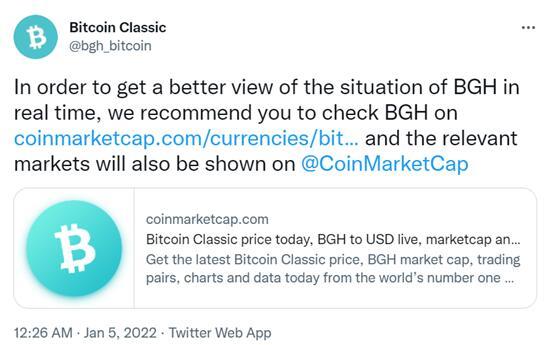 Bitcoin Classic's Twitter account has announced a partnership with CoinMarketCap
About the CoinMarketCap
Founded by Brandon Chez in May 2013, CoinMarketCap has rapidly grown seven years ago into the most trusted source for institutions and media to compare thousands of cryptocurrency assets. Due to its relatively independent and objective, professional API can summarize the data system, as well as the page is concise and other features, CMC and its ranking have become an indispensable and important reference.
Since its establishment eight years ago, CoinMarketCap has been recognized as the most visited crypto asset information market and website in the world. It now provides 16,046 encrypted assets and 447 cryptographic asset transaction platforms, and free open interface services, aggregate global crypto asset transaction data. It provides users with relevant information about high-quality exchanges, and shows the changing trend of its market value, trading volume and its encrypted assets included in real time. It is an important data reference and reliable credit source for industry institutions and media. The US Department of Justice has previously released crypto asset audit reports using its data.
CoinMarketCap is the well-deserved traffic king in the encryption industry in 2020, and most of them are English traffic, or mostly users in Europe and the United States. Some data show that CoinMarketCap's traffic surpassed Binance in the first half of 2020. In April 2020, CoinMarketCap was strategically acquired by Binance as an indispensable part of Binance's global ecological network, bringing much traffic to Binance; all crypto assets circulating on the Binance platform were naturally included by CoinMarketCap.
About the Bitcoin Classic
Bitcoin Classic is an optimized and upgraded version of the original Bitcoin chain. It was born at the height of 630,000 Bitcoin block, with a constant total of 210 million pieces. Bitcoin Classic's optimization is mainly reflected in increasing transaction speed and reducing transaction fees.
In addition, the biggest difference between Bitcoin Classic and Bitcoin is in the block capacity size. Bitcoin Classic expands the capacity size per unit block and supports each block size as a dynamic value, increasing the original 1MB block limit to 8MB. This change greatly increases the volume of network support, giving the Bitcoin Classic network the flexibility to handle transactions in each block.
Bitcoin Classic has reached an ecological partnership with CoinMarketCap
The ecological cooperation between CoinMarketCap and Bitcoin Classic will undoubtedly play a huge role in promoting the global ecological layout of Bitcoin Classic, and will also bring huge traffic to the Bitcoin Classic ecology. It is understood that after Bitcoin Classic reached cooperation with CoinMarketCap, Bitcoin Classic's telegram community flooded into a lot of traffic, new users have asked the community fans should go where to buy BGH, where they should be able to participate in BGH mining.
The telegram community in Bitcoin Classic is running hot
Why are these fans in American and America so interested in Bitcoin Classic? Is it just CoinMarketCap reaching ecological cooperation with Bitcoin Classic?
According to the survey, this part of the fan portrait is roughly: Europe and the United States, old Binance users, senior cryptocurrency participants, some have mining experience. They generally believe that Bitcoin Classic ecological cooperation with CoinMarketCap, is likely to attract the attention of Binance. The reasons are as follows: 1. Bitcoin Classic is a cryptocurrency based on the workload proof consensus mechanism. The current whole network computing power has reached 524PH / s, which means that a large number of miners have participated in Bitcoin Classic mining; and the Bitcoin Classic network is valuable.2. The Bitcoin Classic browser shows that hundreds of thousands of BGH's have been transferred into Binance's platform wallet recently, which may be a sign of Binance's attention to Bitcoin Classic.3. Bitcoin Classic, only online ZB, Coinstore and VinDAX, has great potential in the future.
With the continuous improvement of the global ecological layout of Bitcoin Classic and the increasing application scenarios, users' recognition and belonging to Bitcoin Classic will also increase. I believe that Bitcoin Classic's cooperation with CoinMarketCap is just the beginning. In the future, more institutions will actively seek cooperation from the Bitcoin Classic community, and Bitcoin Classic will also become a globally popular cryptocurrency.
Media Contact
Company Name: Singapore Classic Limited
Contact Person: Wyen
Email: Send Email
Country: Singapore
Website: https://bitcoin-classic.org/