Lambo Professionally Known as Sauce26, is an American upcoming hip-hop rap artist
Lambo Professionally as Sauce26 is an American upcoming hip-hop rap artist He is considered to be an influential figure of his generation, with his music impacting the modern sound of hip-hop rap music, Known for his eccentric vocal style and fashion. Sauce26 initially released a series of independent mixtapes beginning from an early age, he release his first song on SoundCloud in the year 2017. He was born in New Deerfield Beach Florida. he started his music career at a young age. Sauce26 is an independent artist, independent musician is more complicated than one might think, It comes down to market share, ownership and so much more. Depending on his music career, he may or may not need the help of a songwriter in order to be a successful artist. Many successful independent artists write their own songs or collaboratively write with people in their network, I think the state of Indies is very, very strong right now.
He love music because it is the poetry behind self-expression. Music is a healer. The food that feeds my soul. All souls really. Growing up with similar household situations and demographics many of "Us" have been faced with, I needed an energy source. For me, that was and still is music. Many of us are taught to hide our expressions, esp. men. Music became my voice. The outside view of who I am. The words I couldn't express in my household or the emotion I felt when I was neglected. The art of my person, "Sauce26." Truly, the one thing I am good at.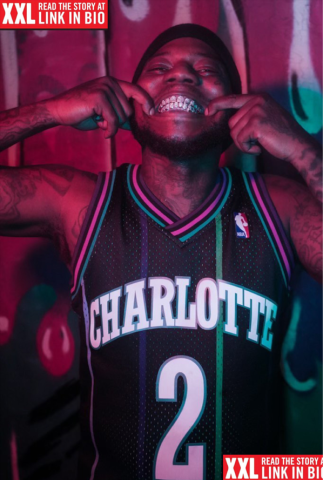 I feel as an artist, I stand out because I AM willing to explore various genres of music & fashion. I'm not a great singer but I have attempted Hip-hop rap, I'm not afraid to step outside the comfort of what Rappers can and should do in music.
As far as I'm concerned, if it's real then I can speak on it. Again, poetry. Giving the people what needs to be heard without the limitations of what is actually possible. "I am a creative talent!"
Honestly, in 5 years I hope to accomplish visibility. Continually working on my story. Exposure to the listeners who hear me. The people who support my progression. Success is a mindset. As long as I'm doing what I love, handling my responsibilities, and feeding souls through music – I'm moving in the right direction. The hustle is never-ending. To hustle and remain humble. Five years from now I hope to be seen, heard, and felt. Alive.
"In life, I want to accomplish real fame. Peace in doing what soothes my listeners and me. A legacy left behind to always follow your dreams. The greatest accomplishment is trying and making that move to either fall or stand. I want everyone to know that I was fearless. Continuously working on my art; myself as an entertainer. "Mind over matters."
"When it comes to the music world, I feel that I honestly bring "Real World Struggle." Many of us bring real-life situations. The struggles are the reasons behind the music. But, I bring the willingness to explore. Explore various genres; music for All. If I knew an Opera singer, I'd put her on a track. I just love music. And, I want the WORLD to hear my music, my heart, my pain. I want the listeners to see & hear ME".
I want to be remembered most for being "Fearless." An artist without fear of rejection or disappointment. Even without fame, I will continue to work and do what I love. That is music. My fans and those who know me will remember, "I'm the rapper who can rap and/or sing about anything."
Sauce26 RELEASED EP "OUT OF THE JUNGLE"
Sauce26 is an up-and-coming phenomenon, hip hop rap artist delivers their breakthrough EP ″OUT OF THE JUNGLE″ which is speculated to take the industry by surprise, he grew into music. He did a lot of underground hip-hop rap.
"SMILE MXRE"
Sauce26 gets better and better with every drop and you'll find yourself anticipating what he got coming. Showcased his melodic evolution and how much potential he really has. His dedication and hard work paves the way toward greatness, nothing will stop him from where he needs to be. What fans should expect in his version of xxlmag is an inviting aura that extends beyond the mic. It possesses him the ability to light up any room with his charisma and zeal; that is a quality of a star that cannot be forced or faked.
INSTAGRAM: @Lambo_26
Click below to listen to web amazing flow
Media Contact
Company Name: Garson Gang Ent
Contact Person: Sauce26
Email: Send Email
Phone: 754/253/7845`
Address:1320 sw 11th ave apt1
City: Deerfield beach
State: Florida 33441
Country: United States
Website: https://youtu.be/WWex2_j_xYk