Bobblehead Fans Have A New Home At SokoBobbleHeads.com
Established in 2010, Soko Bobbleheads offers customers a wide assortment of customized bobbleheads.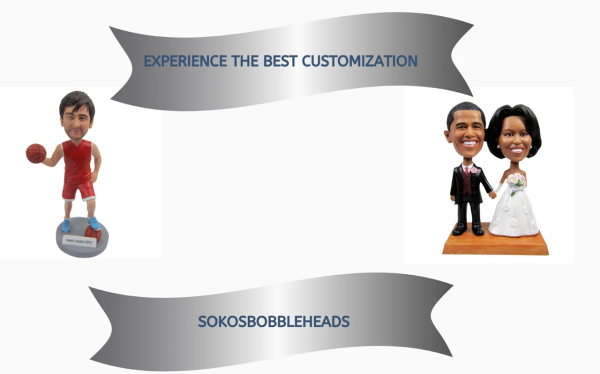 Soko's Bobbleheads was established in 2010 to provide personalized gifts that would be loved and cherished over the years. The company specializes in making customized bobbleheads. They always try to give a more personal touch to the bobble heads that they create for their customers.
The team of talented, professional, and experienced artisans at Soko's Bobbleheads ensures that the bobble heads are unique and one-of-a-kind. The bobbleheads are made with great care and concern and will please even the most discerning gift receivers.
The master sculptors at Soko's have years of working knowledge (at least 10 years) and extensive training in this field. This ensures that the bobble heads that they create are of the highest quality.
On the website, customers can find a huge range of bobbleheads, including:
– Fully Customized Bobbleheads
– Male Bobbleheads
– Female Bobbleheads
– and more…
A spokesperson on behalf of the company said, "We understand that every individual is unique, and hence the gift must be as unique as the person receiving it. Our customized designs reflect the personality of the individual efficiently. Whether you are looking at a fun gift to give to your friend or a gift to show love to a friend or family member, we have bobbleheads to meet the needs of all customers".
A quality check is done before the bobbleheads reach the customers to ensure that the quality of the bobble heads remains the same. Due to their amazing variety and great pricing, they have loyal customers who come back and order more. The company maintains a healthy relationship with their clients, and hence they are recommended by their loyal customers to new customers.
The bobbleheads created by the artists are intricately designed, and attention is paid to the minute details. Before they move on to the final production of the bobbleheads, they get the customized version approved by the customer. It ensures that the customer's interests are catered to properly by the company.
For more details, visit https://sokobobbleheads.com
Media Contact
Company Name: Soko Bobbleheads
Contact Person: Nicole Kent
Email: Send Email
City: Fort Worth
State: Texas
Country: United States
Website: www.sokobobbleheads.com