Touted as a must-watch, catch the theatrical performance of Mike G. Mitchell's "Life Is What You Make It" on Dec. 17
The theatrical performance of Mike G. Mitchell's play 'Life Is What You Make It' will be performed on the 17th of December at DuCret School of Art, Plainfield, New Jersey.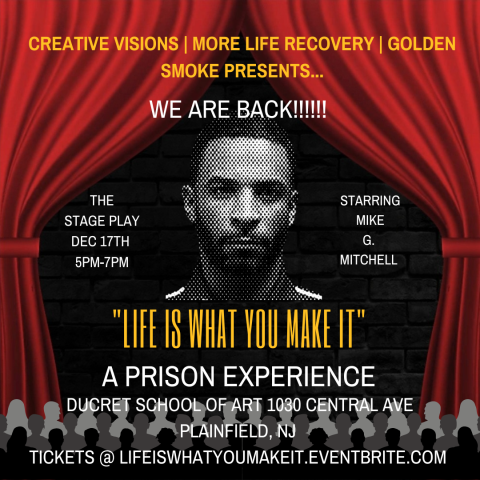 It has been less than two years since actor and writer Michael G. Mitchell was released from prison. On December 17th, 2022, he will be producing a theatre performance of Life Is What You Make It at DuCret School of Art, Plainfield, New Jersey 1030 Central Ave. Once more, it will be a Black Affair. The Plainfield Performing Arts Center, which has 130 seats, was sold out for his most recent performance, which also happened to be his debut performance, on October 29. The drama is based on his time spent behind bars. People cried, laughed, and it was educational.
Along with Big Brody, an Instagram influencer, Michael G. Mitchell will be starring in the play. He wrote the script and directed the stage production. Since they were young children, Mike and Jamar Williamson, commonly known as Big Brody, have been friends.
He also wrote a book titled How To Become Successful Pursuing Your Dreams: From Prison to Prosperity exploring the time when he was imprisoned and how he bounced back to achieve success. The Kindle and print editions of the book are both sold on Amazon.com. This winter, an updated edition will be made available.
The book acts as a manual for breaking down the fundamental skills necessary to lead the lifestyle one has imagined. This guide is intended to help them discover their life's mission because their level of achievement is closely correlated with how well they grasp it.
Additionally, Mike G. Mitchell runs a moving business by the name of TopNotchMovers.
About Michael G. Mitchell:
Mike G. Mitchell was born in Plainfield, New Jersey, in the year 1980. He runs a moving company and formerly had a photographic business in Plainfield. Mike and his crew created the first Cardi B video. He is well-known for his acting roles, and he also produced, directed, and authored the Every City Every Hood video series on YouTube.
Media Contact
Company Name: More Life Recovery Center
Contact Person: Kenny Sass
Email: Send Email
City: Metuchen
State: New Jersey
Country: United States
Website: moreliferecoverycenter.com