Elite Elevators Is Bringing the Best German Home Lifts To India
The company offers home lifts that are the epitome of class, luxury and modern technology.
Ahmedabad, India – Headquartered in Chennai, Tamil Nadu, Elite Elevators is a home elevator company. Partnered with TK Access Solutions, Germany – one of the world's top manufacturers of home mobility products – Elite Elevators operates pan India with an experience centre located here in Ahmedabad. The company is well-known for its top-notch home lifts, stairlifts and platform lifts. The company's home mobility collection is superior in design, technology, safety and overall performance, making it India's leading and only certified home elevator company.
"We take pride in the supreme quality of our home mobility range. Fitted with the best German technology, you'll be in awe of the range when you give it a test ride. Reliable, safe, energy-efficient and sophisticated are how we would describe our home mobility range. You can even customise the design and finishes of your home elevators. Our numerous teams handle every order with great precision – right from the moment you send an enquiry to post-installation follow-ups." said a spokesperson for Elite Elevators.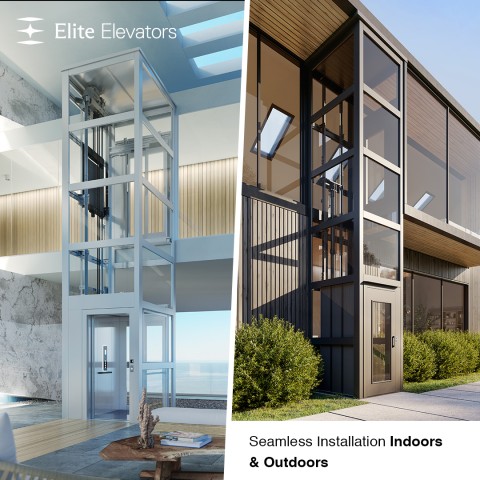 The H200 – Premium Hydraulic Drive
With the H200 home lifts, users can expect a luxuriously smooth, quiet and fast ride. This iconic home lift owes its smooth and gentle operation to the enhanced hydraulic drive. The greaseless rail technology repels grease and dust formation. This feat of German engineering makes this model low maintenance and long-lasting.
The H300 – Patented Cog Belt Drive
This residential lift guarantees users a fast, smooth, and silent ride. This is all thanks to the original and patented Cog Belt drive it runs on. This unique drive is not only twenty times stronger than ropes, chains and cables but is at least 7 years ahead of other residential lifts globally.
The Flow X – Patented ASL Technology
The Advanced Swivel and Levelling (ASL) technology in the Flow X stairlift lends users safety and comfort. Instead of stopping, stuttering and restarting when encountering a landing or a turn, Flow X runs along the pre-fitted railing in one single motion. The stairlift also swivels away from the stairs as opposed to facing them so that users do not feel unsafe. Couple this with the 7 safety features in Flow X, which is the perfect mobility solution for the elderly and persons with mobility issues.
Safety and Security
Elite Elevators is acclaimed for its promise that "Safety is in our DNA." The company's home mobility collection is certified by TÜV SÜD and Safety Integrity Level (SIL) 3. The collection operates per European home safety codes such as the machinery directive 2006/42/EC and European Norm 81-41. Additionally, each home lift comes with 5-7 safety mechanisms that can be accessed by users in emergencies.
About Elite Elevators:
Elite Elevators is an Indian home mobility company with its head office in Chennai, Tamil Nadu. The company provides home lifts, stairlifts, platform lifts, gearless home elevators and hydraulic lifts to residences across the country. Elite Elevators is the authorised global partner of TK Access Solutions, a division of TK Elevator, one of the world's leading manufacturers of premium home mobility products. Engineered in Germany and made in Italy, their home lifts can be customised to meet each client's individual needs. Elite Elevators has a global presence with operations in Australia, Malaysia and the UAE. For more information, visit www.eliteelevators.com
For more information, visit the Ahmedabad experience centre at:
No. 27, Gala Mari Gold,
Opposite Shaligram Prime,
Sobo Centre Road,
Ahmedabad, Gujarat – 380 058
Media Contact
Company Name: Elite Elevators
Email: Send Email
Country: India
Website: www.eliteelevators.com/