B BAIT: All in One Goggle & Buff Big Release Stuns The Goggle Market
The one-of-a-kind B-BAIT Goggles & Buffs may be used for various outdoor activities.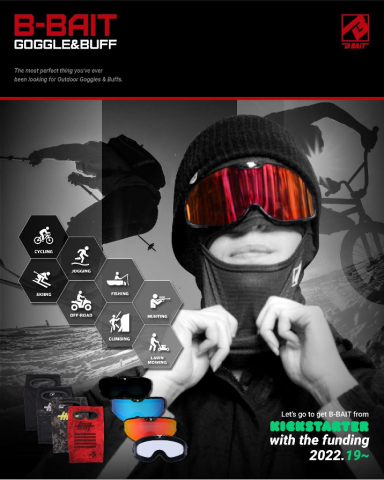 A new hybrid gadget combining goggles and masks has evolved to shield the eyes and skin from the surroundings while playing sports. In their current iteration, goggles have a band that is too tight around the head, making those uncomfortable to wear. BBAIT's new device, however, has the benefit of not requiring a band on the goggles since it can be used by simply attaching it to a specialized mask.
Furthermore, goggles and masks may be paired in a number of ways to suit the buyer's preferences, adding a fashion element to the product. The lens, in particular, has the benefit of ensuring the field of vision with the anti-fog feature by adding an anti-fog film. The lens used the polarization function and passed the bulletproof test, indicating that it is very competitive in terms of performance. A mask, for example, can protect the skin with a sunscreen fabric while still providing a comfortable fit with a cooling function.
BBAIT's new product is lightweight and easy to wear and can be used in various activities, including skating, biking, skiing, snowboarding, jogging, and fishing. It has entered the market for diverse and military work since it is equipped with bulletproof power for eye protection and convenience for light wear.
Expanding Globally
BBAIT, a sports and outdoor company, claims it will officially introduce this product in 2023. With the release of this product, BBAIT intends to cooperate with a number of fashion labels. Inquiries regarding the product or requests for partnerships may be sent through the official website or Kickstarter.
GOGGLE&BUFF is now available for pre-order on Kickstarter at a reduced price before the official launch.
Media Contact
Company Name: B BAIT CORP
Contact Person: JAE HYUCK YANG
Email: Send Email
City: Englewood Cliffs
State: New Jersey
Country: United States
Website: b-bait.com