Darriel Roy – Celebrity TV Host inspiring millions with The Darriel Roy Show
As a business mogul, TV host & celebrity journalist, Darriel is using her platform to educate, inspire, and motivate millions worldwide.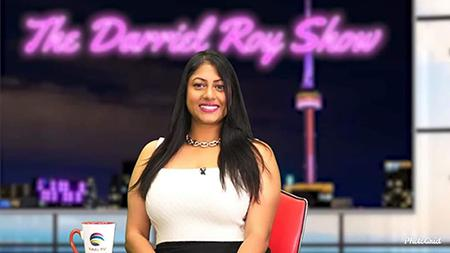 Darriel Roy is best known for "The Darriel Roy Show," a popular show that airs on Apple TV, Roku, Amazon Fire TV, and all Android boxes, as well as internationally on TAG TV. Her show is also available on I Heart Radio, Apple Podcasts, Spotify & Google Podcasts.
On her show, Darriel Roy has hosted popular celebrities, athletes, musicians, and entrepreneurs, with names like Nicolas Cage, Hugh Jackman, Tilda Swinton, Carlos Santana, Netfix founder – Marc Randolph, Priyanka Chopra Jonas, Sean Paul, Shaggy, Suzanne Somers, Jillian Michaels, Kat Von D, Nicky Jam, Grant Cardone, Lil Jon, & A.R. Rahman, to name a few.
She began her career after graduating from the Journalism Broadcasting program and then started her career at Rogers TV, where she was an anchor and reporter. She later went on to host/produce an event called Dare to Dream, which featured media personalities from Rogers TV and CTV who would often speak to a live audience about their experience of overcoming obstacles to get into the media industry. It aired on Roger TV Toronto and Rogers TV Peel.
The grand success of her frst show resulted in the creation of On The Scene Network (OTSN), a web series with a celebrity and philanthropic spin. She was able to interview the Prime Minister of Canada – Justin Trudeau, James Franco, Alec Baldwin, Snoop Dogg, Ed Sheeran, Ryan Reynolds, and Rachel McAdams on this show, to name a few.
Talking about her success, Darriel Roy said, "I learned early in my career that failure is inevitable. But I never let anyone's opinion and critique change me. Of course, I am human, and sometimes it bothers me temporarily, but these challenges only motivate me to work harder. People who underestimated me have now begun to applaud me. I am a big believer that you have to earn people's trust and respect, and I feel I have fnally turned those non-believers into believers."
Darriel plans to continue her brand and aims to take her show to an international level, write books, and become a motivational guru. Citing Oprah as her inspiration, Darriel is poised to become the next generation's Oprah Winfrey, as quoted by LA Weekly, paving her own unique path.
Follow Darriel Roy on Instagram, Facebook, and Twitter at @OffcialDarriel.
Find out more about Darriel Roy on her website at www.darrielroy.com.
Media Contact
Company Name: The Darriel Roy Show
Contact Person: Canada & US Public Relations
Email: Send Email
Country: Canada
Website: www.darrielroy.com