Sequent Microsystems Launches On Kickstater The Esp32-Pi: A Low Cost Raspberry Pi Substitute Using ESP32
ESP32-Pi has the same form factor with Raspberry Pi 3-4 and the same GPIO connector, which emulates 24 I/O pins, 3 UARTS, I2C and SPI interfaces.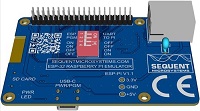 April 28, 2023 –
Sequent Microsystems, a tech company from Cupertino, California has launched a Kickstarter campaign for a new Raspberry Pi substitute using the ESP32 processor. The ESP32-Pi provides a low cost replacement to the hard to find Raspberry Pi, for embedded applications which do not require an operating system.
According to Wikipedia, "ESP32 is a series of low-cost, low-power system on a chip microcontrollers with integrated Wi-Fi and dual-mode Bluetooth".
The ESP32-Pi can be accessed remotely through its own web server. An optional add-on with an LCD display, a rotary encoder and six push buttons can be used for local access to display and control embedded applications.
Large amounts of data can be stored locally using the on-board SD-Card socket. A 10/100 Mbps RJ45 Ethernet port is also present, for deployments where Wi-Fi might not be available or reliable. In addition, an USB type-C port can be used for programming and debug.
"Connecting Raspberry Pi to the Real World" is our motto and it defines our mission", says Mihai Beffa, Sequent Microsystem's CEO. "When we started the company in 2017, Raspberry Pi was $35 and readily available. Now it's over $200 and almost impossible to buy in large quantities. We wish we would not have to create yet another Raspberry Pi substitute, but many of our clients who cannot buy Raspberry Pi's are asking for solutions. We hope the ESP32-Pi has a short life and it's replaced by a readily available and low cost Raspberry Pi".
With an MSRP of only $50, the ESP32-Pi is offered to Kickstarter backers with up to 25% discount.
https://www.kickstarter.com/projects/beffa/esp32-pi-emulator-another-raspberry-pi-replacement-solution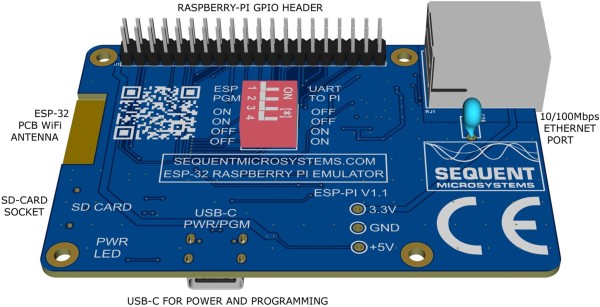 Media Contact
Company Name: Sequent Microsystems
Contact Person: Mihai Beffa
Email: Send Email
Phone: (408) 982-6543
Country: United States
Website: www.sequentmicrosystems.com