Food Pathogen Testing Market worth $22.7 billion by 2028 | Key Players are Surveillance SA, Bureau Veritas, Intertek Group Plc., Eurofins Scientific, TÜV NORD GROUP
The food pathogen testing market has been witnessing dynamic growth due to increasing concerns about food contamination, spoilage, and foodborne illnesses. The market has been experiencing growth driven by increasing consumer awareness of food safety and media influence related to food safety issues.
According to a research report "Food Pathogen Testing Market by Type (E. Coli, Salmonella, Campylobacter, Listeria), Technology (Traditional, Rapid), Food Type (Meat & Poultry, Dairy, Processed Food, Fruits & Vegetables, Cereals & Grains) and Region – Global Forecast to 2028″ published by MarketsandMarkets, the food pathogen testing market is estimated at USD 15.1 billion in 2023 and is projected to reach USD 22.7 billion by 2028, at a CAGR of 8.4% from 2023 to 2028. The increasing demand for food pathogen testing services can be attributed to several factors, including growing consumer awareness of the risks associated with foodborne illnesses and the need for safer food. High-profile cases of contamination and outbreaks have heightened public concerns, leading consumers to seek greater transparency and assurance regarding the safety of the food they consume. Consequently, there has been a surge in demand for food pathogen testing services to meet this consumer demand.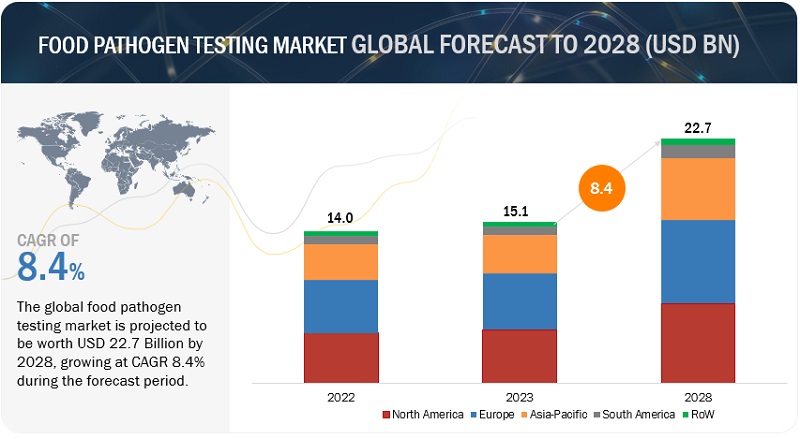 Download PDF Brochure: https://www.marketsandmarkets.com/pdfdownloadNew.asp?id=202386163
In addition, regulatory bodies and government agencies have placed greater emphasis on food safety, enacting stricter regulations and standards. Compliance with these regulations requires regular testing to ensure that food products meet acceptable levels of pathogens. As a result, food producers, manufacturers, and retailers are increasingly turning to food pathogen testing services to adhere to these regulations and maintain compliance.
The globalization of the food supply chain has also contributed to the increased demand for food pathogen testing. With the import and export of food products across borders, there is an elevated risk of contamination. Robust testing measures are necessary to identify and mitigate potential pathogens, ensuring the safety and quality of food products throughout the supply chain. This has led to a growing need for food pathogen testing services to support safe international trade and maintain consumer confidence.
The Campylobacter in by type segment is estimated to grow at 8.6% during the forecasted period.
Campylobacter is a spiral-shaped, gram-negative bacteria well-known for its high motility and its role in causing food contamination and illness. It is primarily associated with the contamination of poultry and meat products. The two most common species of Campylobacter, Campylobacter jejuni, and C. coli, are responsible for bacterial diarrhea, particularly traveler's diarrhea. While Campylobacter can be found in the gastrointestinal tracts of various warm-blooded animals such as cattle, sheep, pigs, dogs, and goats, it is most associated with birds, especially Poultry. Raw chicken is recognized as a major source of Campylobacter transmission to humans, followed by unpasteurized raw milk.
Campylobacter contaminates food when it encounters sewage water or animal feces. Consumers become infected by consuming contaminated food, such as Poultry and fresh produce, or beverages, like contaminated water or unpasteurized milk. Once ingested, the bacteria travel to the stomach within the contaminated food. Campylobacter is highly mobile and can penetrate the intestinal epithelial cells. It produces two toxins: enterotoxin and cytotoxin. Cytotoxin leads to cell damage and food poisoning, resulting in symptoms typically appearing within two to five days after consuming contaminated food. Common symptoms of Campylobacter infection include bloody diarrhea, fever, vomiting, and abdominal and muscle pain.
Meat & Poultry is estimated to dominate the food type segment in the food pathogen testing market.
The meat and poultry industry is the subject of this research, and it comprises ground beef, ground pig, lunch meat, beef, meat alternatives, ground chicken, ground turkey, cooked chicken, and raw chicken parts. Meat and poultry product contamination happens mostly during packaging, processing, and insufficient storage practices that fail to maintain the requisite appropriate temperature. Escherichia coli (E. coli), Salmonella, and Campylobacter are the most frequent pathogens identified in meat and Poultry.
The food industry is highly concerned about pathogen contamination in meat, Poultry, and seafood due to the potential risks it poses to public health. These food products can be contaminated by various pathogens, including bacteria, viruses, and parasites. Ingesting such pathogens without proper safeguards in place can lead to foodborne diseases. The presence of pathogens like Salmonella, E. coli, Campylobacter, Listeria monocytogenes, and Vibrio species in animal-derived products emphasizes the importance of implementing stringent food safety procedures throughout the entire manufacturing and supply chain.
Make an Inquiry: https://www.marketsandmarkets.com/Enquiry_Before_BuyingNew.asp?id=202386163
Asia Pacific is estimated to grow at the fastest CAGR in the food pathogen testing market.
Foodborne diseases pose a significant threat to densely populated areas in the Asia-Pacific region, which happens to be the fastest-growing market for food pathogen testing. The growth can be attributed to the increasing focus on compliance with safety standards, high-volume food trade within the region, and the strict safety regulations followed by developed economies worldwide.
In China, food safety regulations have been evolving to tackle incidents of food contamination and enhance overall food quality, safety, and hygiene practices throughout the manufacturing and supply chain. However, despite these efforts, issues related to food safety persist and have even grown in number, impacting consumer well-being. Ongoing foodborne disease outbreaks and safety concerns in the country have eroded public trust in China's food industry and regulatory authorities. China's reputation in food exports has also been significantly affected due to reasons such as non-compliance with regulatory requirements, exceeding permissible limits of contaminants, and questionable manufacturing practices and product contents. As a result, revisions have been enforced in China's food safety regulations, introducing additional measures, increasing stringency, and imposing stricter penalties.
Major key players operating in the food pathogen testing market are SGS Société Générale de Surveillance SA (Switzerland), Bureau Veritas (France), and Intertek Group Plc. (UK), Eurofins Scientific (Europe), ALS (Australia), JBT (US), TÜV NORD GROUP (Germany), AsureQuality (New Zealand).
About MarketsandMarkets™
MarketsandMarkets™ is a blue ocean alternative in growth consulting and program management, leveraging a man-machine offering to drive supernormal growth for progressive organizations in the B2B space. We have the widest lens on emerging technologies, making us proficient in co-creating supernormal growth for clients.
The B2B economy is witnessing the emergence of $25 trillion of new revenue streams that are substituting existing revenue streams in this decade alone. We work with clients on growth programs, helping them monetize this $25 trillion opportunity through our service lines – TAM Expansion, Go-to-Market (GTM) Strategy to Execution, Market Share Gain, Account Enablement, and Thought Leadership Marketing.
Built on the 'GIVE Growth' principle, we work with several Forbes Global 2000 B2B companies – helping them stay relevant in a disruptive ecosystem. Our insights and strategies are molded by our industry experts, cutting-edge AI-powered Market Intelligence Cloud, and years of research. The KnowledgeStore™ (our Market Intelligence Cloud) integrates our research, facilitates an analysis of interconnections through a set of applications, helping clients look at the entire ecosystem and understand the revenue shifts happening in their industry.
Media Contact
Company Name: MarketsandMarkets™ Research Private Ltd.
Contact Person: Mr. Aashish Mehra
Email: Send Email
Phone: 18886006441
Address:630 Dundee Road Suite 430
City: Northbrook
State: IL 60062
Country: United States
Website: https://www.marketsandmarkets.com/Market-Reports/food-pathogen-testing-market-202386163.html