Shenzhen DeepMaterial Technologies Co., Ltd Leads the Way as a Premier Manufacturer of Industrial UV Adhesives
DeepMaterial UV light curing adhesives have found widespread usage in diverse industries, including electronics, transportation, medical, and many others, solidifying its reputation as a reliable supplier of high-grade materials.
Shenzhen, Guangdong, China – Shenzhen DeepMaterial Technologies Co., Ltd, a leading innovator in the adhesive industry, proudly announces its specialization in UV adhesives for various industrial applications. With a commitment to delivering high-grade materials and cutting-edge technology, Deepmaterial has become a reliable UV-curing adhesive manufacturer catering to electronics, transportation, medical, and numerous other industries.
DeepMaterial's UV Light curing adhesives have gained widespread recognition across different market sectors, most notably in the manufacture of disposable medical devices such as syringe needle bonding and plastic tube & bag sets. These medical UV adhesives meet the stringent requirements of USP Class VI or ISO 10993 biocompatibility standards, ensuring the highest levels of safety and performance for medical applications.
The company's expertise also extends to other critical applications, including splicing and bonding of fiber optic filaments, lens bonding, fabricating acrylic or glass display cases, and creating retail point-of-sale products like shelving units, plinths, awards, trophies, cabinets, signs, and decorative artwork. Deepmaterial's commitment to excellence ensures that Industrial UV adhesives deliver exceptional performance in each application, providing strong and durable bonds.
"We take immense pride in our role as a leading UV curing adhesive manufacturer, offering solutions that cater to a wide range of industries," said James Yuan, the founder of DeepMaterial Technologies Co., Ltd. "Our adhesives' ability to achieve transparent and colorless bonds, along with their rapid cure time and resistance to adverse environmental conditions, makes them the preferred choice for precision-driven processes in optical, medical, electronics, and glassware production."
DeepMaterial's adhesives are compatible with various materials, including ceramics, concrete, composite materials, glass, fabric, metal, paper, polycarbonate, plastic, PVC, wood, and rubber. One of the key advantages of their UV adhesives is the swift curing process initiated by UV light sources. As a result, they are ideal for high-speed applications, allowing for increased production efficiency without compromising bond quality.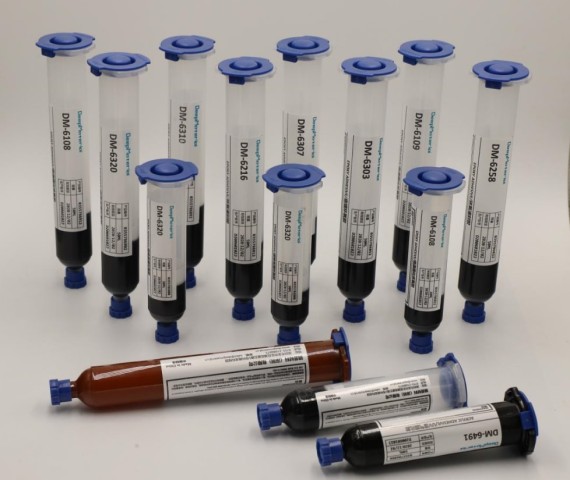 In addition to UV adhesives, DeepMaterial Technologies Co., Ltd specializes in semiconductor and electronic applications adhesives. The company has developed various products, including chip packaging and testing adhesives, circuit board-level adhesives, and electronic products. Deepmaterial's commitment to innovation has also led to the development of protective films, semiconductor fillers, and packaging materials for semiconductor wafer processing, chip packaging, and testing.
With a strong focus on research and development, DeepMaterial continues to pioneer new advancements in the adhesive industry. Their relentless pursuit of excellence ensures that their customers benefit from state-of-the-art adhesives that meet the evolving needs of modern industrial processes.
Please visit their official website for more information about Shenzhen Deepmaterial Technologies Co., Ltd and their UV curing adhesives.
About Shenzhen DeepMaterial Technologies Co., Ltd:
Shenzhen DeepMaterial Technologies Co., Ltd is a pioneering adhesive manufacturer specializing in UV curing adhesives for various industrial applications. With a solid commitment to research and innovation, the company continues to deliver high-grade materials that meet the diverse requirements of its global clientele. Their products find applications in electronics, transportation, medical, and various other industries, catering to high-precision and high-speed processes. DeepMaterial is devoted to excellence, ensuring their adhesives provide strong, durable, and reliable bonds in every application.
Media Contact:
Media Contact
Company Name: Shenzhen Deepmaterial Technologies Co., Ltd
Contact Person: James Yuan
Email: Send Email
Address:Building C, Comlong Science & Technology Park, Guanlan High-tech Park, Longhua District
City: Shenzhen
State: Guangdong
Country: China
Website: www.uvadhesiveglue.com