Soulbound to take over Bali's Premier Tech, Finance and Web3 Impact Festival at Bali Blockchain Summit 2023
Bali's Premier Tech, Finance and Impact Festival
Brought to you by Bali Collective, Republik Rupiah, Disruptives, Baliola and Connected Capital
Powered by Polkadot and ICP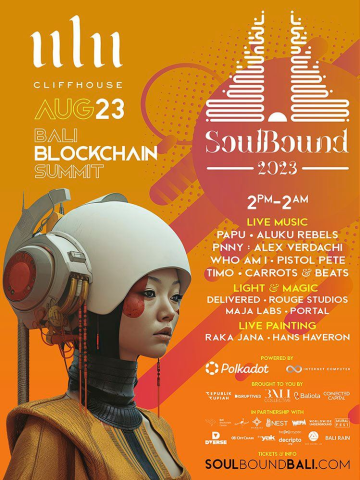 When & Where: August 22-26, 2023 – Bali, Indonesia
August 22nd : Bali Blockchain Center, Denpasar
August 23rd : Ulu Cliffhouse, Uluwatu
August 24th & 25th: Connected Capital invite only dinners
August 26th : Rouge Studios Bali, Canggu
TICKETS: Free General Admission and 500k VIP options
https://linktr.ee/soulbound_bali
https://www.townscript.com/e/soulbound-2023-112303
SoulBound is a multi-day interactive festival with Guest Speakers, Panels, Workshops, Pitches and Installations featuring some of the world's leading minds in Web3 & Blockchain, Finance & ReFi, AI, AR, VR & Gaming, Impact & Sustainability.
Speakers + Panelists
Polkadot, ICP, Pintu, GSR Capital, Ideosource V, Fluidity Money, WIBA, Mandala Chain, Gmnt Chain, Fluidity Money, DVERSE, NEST, GSR, HD Games, Jagad, D3Labs, MantraDAO, Ekta & Entire Land, Mammoth Foundation, ERC3643, Baliola, Bali Blockchain Center, Republik Rupiah, Republik DAO, Disruptives, Rouge Studios, DELIVERED, Maja Labs, WEPA, W3 Guild Games, Orgone, Catapult Group, Braeside, The Funding, OffChain with more to be announced soon.
Day One : August 22nd
Opening Ceremonies
@ Bali Blockchain Center
https://baliblockchain.center/
We start the week off showcasing Bali's homegrown Web3 projects with featured Speakers, Panels, Workshops, Traditional Dance, Film Screening and Local Food Experiences.
The attendees will include Government Officials, Balinese Royal Families, VCs, Fund Managers, Layer 1's, NFT Art & Coin Communities, Developers and Impact Projects.
Day Two : August 23rd
Main Showcase
@ Ulu Cliffhouse : 2pm-2am
https://ulucliffhouse.com/
http://connectedcapital.xyz/
A full day showcase on multiple stages featuring Guest Speakers, Panels, Workshops, Interactive AI & AR Gamified Experiences with Live Music & Art, Film, Fashion, Dance and more.
Connected Capital joins us as they continue their world tour fresh off the back of their Hong Kong event at Google HQ where they will offer an exclusive VIP experience on the Ulu Cliffhouse Ocean Deck.
The team that brought you Mural Fest has curated a lineup of award winning, world-class visual and musical artists creating an interactive wonderland featuring:
Live Music
Papu, Aluku Rebels, PNNY • Alex Verdacchi, Who Am I, Timo, Pistol Pete and Carrots & Beats.
Live Painting
Hans Haveron and Raka Jana
https://www.instagram.com/hanshaveron/
https://www.instagram.com/rakajana/
Light + Magic
DELIVERED. is a multimedia experience studio focused on Media Architecture and Immersive Experiences with a portfolio that include FIFA World Cup, Sochi Olympics, Lamborghini, Lexus and BMW get ready for SoulBound at Ulu Cliffhouse to be filled with wonder and awe.
http://delivered.global/
Motion Capture
Rogue Studios aka Rouge MoCap is a full-service virtual production studio, delivering AAA-quality products across a range of industries including Film, Video Games, TV, VR, and Music Videos with a portfolio that includes: Black Panther, Deadpool, Love Death + Robots Vol 2 & 3, Star Wars Jedi: Survivor, The Last of Us Part II, Billie Ellish: Happier Than Ever, Call of Duty, Destiny 2 and Gotham Knights.
AR + VR
Maja Labs : AR Fashion + VR Experience
https://www.instagram.com/majalabs_xyz/
Day Three + Four : August 24th + 25th
Connected Capital Dinners
A curated fine dining experience. These are invite only, intimate networking gatherings of VC's, LP's, fund managers and tech gurus.
http://connectedcapital.xyz/
Day Five : August 26th
@ Rouge Studios Bali 2-6pm
Tropical Nomad Creative
Canggu map
Here we showcase the first and only motion capture studio and academy in Indonesia where we will raise the next generation of tech gurus and produce world-class content. Come meet the team behind some of your favorite Hollywood films and video games and witness a live shoot.
For more information and tickets please visit https://SoulBoundBali.com
Media Contact
Company Name: Soulbound
Contact Person: DVerse
Email: Send Email
City: Bali
Country: Indonesia
Website: https://SoulBoundBali.com