Independence Day Dress: Celebrate with Sanskriti Fancy Dresses, A Parade of Patriotism and Style
Sanskriti Fancy Dresses presents a diverse "Independence Day Dress" collection for India's 77th Independence Day, offering traditional to contemporary outfits with customization options, available online and in their Noida-based stores.
As India gears up to celebrate its 77th Independence Day, the quest for the perfect outfit to mark this historic occasion is underway. Look no further than "Sanskriti Fancy Dresses," a renowned online and physical store based in Noida and Greater Noida, specializing in an extensive collection of costumes for every occasion. Whether you want to channel your inner freedom fighter, showcase your patriotic spirit, or simply add a touch of flair to your celebrations, Sanskriti Fancy Dresses has something to make your Independence Day truly special.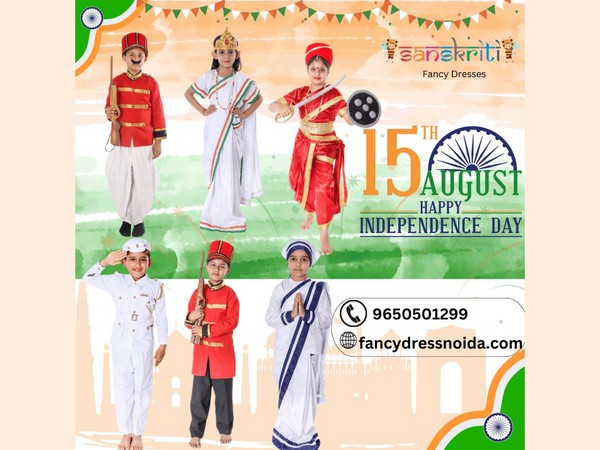 Sanskriti Fancy Dresses proudly presents its exclusive "Independence Day Dress" collection, curated to honor the spirit of freedom and patriotism. To explore this unique collection, visit their website at https://fancydressnoida.com/independence-day-dress/. The assortment features a wide array of traditional Indian costumes, international ensembles, superhero outfits, and costumes inspired by beloved movies and television shows. Whether you're a history enthusiast or a pop-culture aficionado, there's something for everyone at Sanskriti Fancy Dresses.
At Sanskriti Fancy Dresses, diversity is celebrated, and the team strives to meet the unique preferences and requirements of every customer. With costumes available in various sizes, there is no limitation to express your individuality. Moreover, the store offers a range of accessories that complement the outfits, elevating the overall look and feel of the costumes.
Sanskriti Fancy Dresses takes pride in its founder's expertise and passion for the industry. With a background as a trained dance teacher, the founder brings over a decade of experience to ensure the costumes not only boast high quality but also serve practical purposes for performances and events. This dedication to excellence resonates through the entire team, providing customers with unparalleled service and top-notch products.
The physical stores in Noida and Greater Noida offer a comfortable and hygienic environment for customers to explore and try on their preferred costumes. The knowledgeable and friendly staff is always on hand to provide expert guidance and assistance in choosing the perfect ensemble for every occasion. Recognizing that every event is unique, Sanskriti Fancy Dresses offers customization options to cater to individual requirements. Whether it's a school event, theatrical production, or a themed party, the team can design and create costumes tailored to specific needs, ensuring a perfect fit for every customer.
At Sanskriti Fancy Dresses, cultural pride takes center stage. The store's commitment to offering traditional and cultural costumes that celebrate the rich heritage of India reflects its deep appreciation for the country's diverse culture. What sets Sanskriti Fancy Dresses apart is its dedication to creative and unique costume designs. Perfect for school events, competitions, and theatrical performances, these imaginative creations are guaranteed to captivate audiences and earn applause.
The store's focus on customer satisfaction extends to the booking and payment process. Multiple payment options, including cash, card, and online payments, ensure a hassle-free experience for customers, enabling them to focus on the joy of selecting their perfect outfit.
The good reviews and reputation garnered by Sanskriti Fancy Dresses speak volumes about its commitment to quality and customer satisfaction. Loyal customers are rewarded with discounts and promotions, making it an enticing choice for patrons seeking top-notch costumes at competitive prices.
Beyond Independence Day, Sanskriti Fancy Dresses keeps the festive spirit alive with its seasonal costumes for various festivals and events. Embrace the joy of Diwali, Halloween, Christmas, and more with costumes that exude the essence of celebration. In the digital age, Sanskriti Fancy Dresses ensures convenience for customers through its online platform. The website allows customers to browse the extensive collection, make purchases, and have costumes delivered to their doorstep with ease.
Sanskriti Fancy Dresses offers a comprehensive package for all your costume needs. From Independence Day Dress to costumes for various occasions and themes, the store takes pride in its wide range, quality, customer service, customization options, and competitive pricing. With its commitment to preserving cultural heritage and embracing creativity, Sanskriti Fancy Dresses remains a preferred destination for all those seeking to express themselves through the art of dressing up.
As India prepares to commemorate its independence, Sanskriti Fancy Dresses is excited to be a part of the festivities. The team eagerly awaits the opportunity to collaborate with esteemed schools and organizers to contribute to memorable and inspiring events. For more information or to explore the collection, visit https://fancydressnoida.com/ or call 9650501299. Step into the world of costumes at Sanskriti Fancy Dresses and let the celebration begin!
Media Contact
Company Name: Sanskriti Fancy Dresses
Contact Person: Media Relations
Email: Send Email
Phone: +91 9650 501 299
Address:Shop Number-5 & 6 E-167, Indira Market, Sector 27
City: Noida
State: Uttar Pradesh
Country: India
Website: https://fancydressnoida.com/