Psoriasis Pipeline Report, 2023 Updates: In-depth Analysis into the Clinical Trials, Latest FDA, EMA, and PMDA Approvals, Emerging Drugs, and Growth Prospects | Fresh Tracks Therapeutics, Inmagene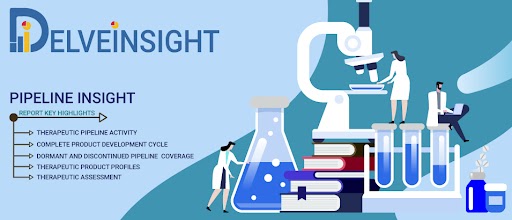 (Las Vegas, Nevada, United States) As per DelveInsight's assessment, globally, Psoriasis pipeline constitutes 80+ key companies continuously working towards developing 80+ Psoriasis treatment therapies, analysis of Clinical Trials, Therapies, Mechanism of Action, Route of Administration, and Developments analyzes DelveInsight.
The Psoriasis Pipeline report embraces in-depth commercial and clinical assessment of the pipeline products from the pre-clinical developmental phase to the marketed phase. The report also covers a detailed description of the drug, including the mechanism of action of the drug, clinical studies, NDA approvals (if any), and product development activities comprising the technology, collaborations, mergers acquisition, funding, designations, and other product-related details.
"Psoriasis Pipeline Insight, 2023" report by DelveInsight outlines comprehensive insights into the present clinical development scenario and growth prospects across the Psoriasis Market.
Some of the key takeaways from the Psoriasis Pipeline Report:
Companies across the globe are diligently working toward developing novel Psoriasis treatment therapies with a considerable amount of success over the years.
Psoriasis companies working in the treatment market are Fresh Tracks Therapeutics, Inmagene, SFA Therapeutics, Palobiofarma, Sun Pharmaceutical Industries Limited, Biohaven Pharmaceuticals, Inc., Dr. Reddy's, MetrioPharm, Celltrion, Amgen, Can-Fite Biopharma, and others, are developing therapies for the Psoriasis treatment
Emerging Psoriasis therapies in the different phases of clinical trials are- FRTX-03, IMG-008, SFA 002, PBF-1650, SCD-044, Rimegepant, PPC-06, MP1032, CT-P43, ABP 654, Piclidenoson, and others are expected to have a significant impact on the Psoriasis market in the coming years.
In April 2023, The submission of a registration plan for a pivotal Phase III clinical trial for the treatment of moderate to severe psoriasis received a favourable opinion from the Committee for Medicinal Products for Human Use (CHMP) of the European Medicines Agency (EMA), according to a press release from Can-Fite BioPharma.
In May 2022, Deucravacitinib treatment for adult patients with moderate to severe plaque psoriasis has been shown to have lasting efficacy and a consistent safety profile, according to two-year data from the POETYK PSO long-term extension (LTE) experiment released by Bristol Myers Squibb. Clinical efficacy persisted for up to two years after starting deucravacitinib treatment, with response rates of 77.7% and 58.7% for static Physicians Global Assessment (sPGA) 0/1 (clean/almost clear skin) and psoriasis area and severity index (PASI) 75, respectively, at Week 60 in the LTE.
In April 2022, Amgen released the preliminary findings of a Phase 3 research comparing ABP 654 to STELARA® (ustekinumab) in treating adult patients with moderate to severe plaque psoriasis. The primary efficacy endpoint of the research was achieved, showing no clinically significant differences between ABP 654 and STELARA.
In March 2022, At the 2022 American Academy of Dermatology annual meeting, which was held in Boston, Massachusetts, Arcutis Biotherapeutics revealed fresh pooled findings from the DERMIS Phase III trials of roflumilast cream are available in four abstracts. Roflumilast is a very effective and selective PDE4 inhibitor that Arcutis is researching as a non-steroidal topical treatment for a variety of inflammatory skin conditions, including plaque psoriasis.
In March 2022, Due to an unexpected delay in the gathering of trial data, Can-Fite BioPharma Ltd. said that top line data from its Phase III ComfortTM study of Piclidenoson in the treatment of moderate-to-severe plaque psoriasis are slated to be released in Q2 2022. Over 400 patients from 30 sites in Europe, Israel, and Canada participated in the trial.
Psoriasis Overview
A chronic inflammatory skin condition known as psoriasis is brought on by a combination of immunological, environmental, and genetic factors. It has a variety of clinical symptoms. It is a dermatosis disease that is not communicable and affects nearly 2% of the global population.
Get a Free Sample PDF Report to know more about Psoriasis Pipeline Therapeutic Assessment-
https://www.delveinsight.com/report-store/psoriasis-pipeline-insight
Emerging Psoriasis Drugs Under Different Phases of Clinical Development Include:
FRTX-03: Fresh Tracks Therapeutics
IMG-008: Inmagene
SFA 002: SFA Therapeutics
PBF-1650: Palobiofarma
SCD-044: Sun Pharmaceutical Industries Limited
Rimegepant: Biohaven Pharmaceuticals, Inc.
PPC-06: Dr. Reddy's
MP1032: MetrioPharm
CT-P43: Celltrion
ABP 654: Amgen
Piclidenoson: Can-Fite Biopharma
Topical roflumilast: Arcutis Biotherapeutics
GSK2982772: GlaxoSmithKline
Psoriasis Route of Administration
Psoriasis pipeline report provides the therapeutic assessment of the pipeline drugs by the Route of Administration. Products have been categorized under various ROAs, such as
Oral
Parenteral
Intravenous
Subcutaneous
Topical
Psoriasis Molecule Type
Psoriasis Products have been categorized under various Molecule types, such as
Monoclonal Antibody
Peptides
Polymer
Small molecule
Gene therapy
Psoriasis Pipeline Therapeutics Assessment
Psoriasis Assessment by Product Type
Psoriasis By Stage and Product Type
Psoriasis Assessment by Route of Administration
Psoriasis By Stage and Route of Administration
Psoriasis Assessment by Molecule Type
Psoriasis by Stage and Molecule Type
DelveInsight's Psoriasis Report covers around 80+ products under different phases of clinical development like
Late-stage products (Phase III)
Mid-stage products (Phase II)
Early-stage product (Phase I)
Pre-clinical and Discovery stage candidates
Discontinued & Inactive candidates
Route of Administration
Further Psoriasis product details are provided in the report. Download the Psoriasis pipeline report to learn more about the emerging Psoriasis therapies
Some of the key companies in the Psoriasis Therapeutics Market include:
Key companies developing therapies for Psoriasis are – Arcutis Biotherapeutics, Affibody, Akeso Biopharma, Dong-A ST Co., Ltd., DelArrivo, Inc., Bristol-Myers Squibb, Bio-Thera Solutions, Janssen Research & Development, LLC, Meiji Pharma USA Inc., Aldeyra Therapeutics, Inc., Amgen, Bioeq GmbH, Can-Fite Biopharma, Hangzhou Highlightll Pharmaceutical Co., Ltd, Nimbus Therapeutics, Sun Pharmaceutical Industries, Jiangsu Hengrui Medicine, Ono Pharmaceutical, GC Cell Corporation, Suzhou Zelgen Biopharmaceuticals, Aurigene Discovery Technologies Limited, Celltrion, Tianjin Hemay Pharmaceutical Co., Ltd, Innovent Biologics (Suzhou) Co. Ltd., Sinocelltech, Azora Therapeutics, Biocon, and others.
Psoriasis Pipeline Analysis:
The Psoriasis pipeline report provides insights into
The report provides detailed insights about companies that are developing therapies for the treatment of Psoriasis with aggregate therapies developed by each company for the same.
It accesses the Different therapeutic candidates segmented into early-stage, mid-stage, and late-stage of development for Psoriasis Treatment.
Psoriasis key companies are involved in targeted therapeutics development with respective active and inactive (dormant or discontinued) projects.
Psoriasis Drugs under development based on the stage of development, route of administration, target receptor, monotherapy or combination therapy, a different mechanism of action, and molecular type.
Detailed analysis of collaborations (company-company collaborations and company-academia collaborations), licensing agreement and financing details for future advancement of the Psoriasis market.
The report is built using data and information traced from the researcher's proprietary databases, company/university websites, clinical trial registries, conferences, SEC filings, investor presentations, and featured press releases from company/university websites and industry-specific third-party sources, etc.
Download Sample PDF Report to know more about Psoriasis drugs and therapies
Psoriasis Pipeline Market Drivers
Increasing prevalence of Psoriasis across the globe, increasing combinational therapies, an increase witnessed in Biological therapy approvals for Psoriasis are some of the important factors that are fueling the Psoriasis Market.
Psoriasis Pipeline Market Barriers
However, side effects associated with the treatment, high-cost treatment and Unfavourable Reimbursement policies and other factors are creating obstacles in the Psoriasis Market growth.
Scope of Psoriasis Pipeline Drug Insight
Coverage: Global
Key Psoriasis Companies: Fresh Tracks Therapeutics, Inmagene, SFA Therapeutics, Palobiofarma, Sun Pharmaceutical Industries Limited, Biohaven Pharmaceuticals, Inc., Dr. Reddy's, MetrioPharm, Celltrion, Amgen, Can-Fite Biopharma, and others
Key Psoriasis Therapies: FRTX-03, IMG-008, SFA 002, PBF-1650, SCD-044, Rimegepant, PPC-06, MP1032, CT-P43, ABP 654, Piclidenoson, and others
Psoriasis Therapeutic Assessment: Psoriasis current marketed and Psoriasis emerging therapies
Psoriasis Market Dynamics: Psoriasis market drivers and Psoriasis market barriers
Request for Sample PDF Report for Psoriasis Pipeline Assessment and clinical trials
Table of Contents
1. Psoriasis Report Introduction
2. Psoriasis Executive Summary
3. Psoriasis Overview
4. Psoriasis- Analytical Perspective In-depth Commercial Assessment
5. Psoriasis Pipeline Therapeutics
6. Psoriasis Late Stage Products (Phase II/III)
7. Psoriasis Mid Stage Products (Phase II)
8. Psoriasis Early Stage Products (Phase I)
9. Psoriasis Preclinical Stage Products
10. Psoriasis Therapeutics Assessment
11. Psoriasis Inactive Products
12. Company-University Collaborations (Licensing/Partnering) Analysis
13. Psoriasis Key Companies
14. Psoriasis Key Products
15. Psoriasis Unmet Needs
16 . Psoriasis Market Drivers and Barriers
17. Psoriasis Future Perspectives and Conclusion
18. Psoriasis Analyst Views
19. Appendix
20. About DelveInsight
About DelveInsight
DelveInsight is a leading Business Consultant and Market Research firm focused exclusively on life sciences. It supports Pharma companies by providing comprehensive end-to-end solutions to improve their performance. It also offers Healthcare Consulting Services, which benefits in market analysis to accelerate business growth and overcome challenges with a practical approach.
Media Contact
Company Name: DelveInsight Business Research
Contact Person: Gaurav Bora
Email: Send Email
Phone: 8774225362
Address:27 Drydock Ave S. Jones Blvd #2432
City: Boston
State: MA
Country: United States
Website: https://www.delveinsight.com/consulting/asset-prioritizaton-services