Everhaunt: One of America's Most Beloved Haunted Attractions Returns for Another Year of Fear
Everhaunt returns on October 6th for the ghouling season.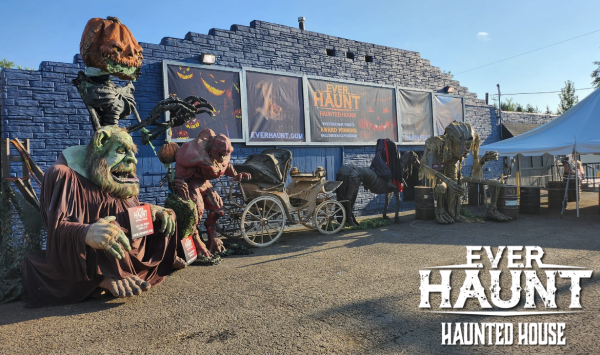 Scares are skulking back to Angola, New York, this October when Everhaunt Haunted House re-opens for the Halloween season on October 6th.
Voted as one of the best-haunted attractions in America, Everhaunt has quite an array of Halloween fun for everyone.
"For us, it was never about creating just a bunch of haunted houses," says founder Kevin Donovan. "It was always about creating a unique, one-of-a-kind Halloween Wonderland for the people of Western New York and beyond. Last year alone, we had guests come from 22 different states."
Currently, Everhaunt has multiple haunted houses, midway games, coffin rides, escape rooms, virtual reality rides, photo booth attractions, a local horror history show, a horror store, and family-friendly kids' days.
"This year, we are really excited to add the Delaware Creek Pumpkin Spectacular, which has thousands of hand-carved pumpkins, giant talking characters, photo ops, games, and more. We've also added The Storm, a terrifying simulated storm experience gone wrong within the Delaware Creek." Donovan mentioned.
Everhaunt is also excited about the return of their popular Horror Icon Series, where big-name horror movie stars spend weekends at the attraction visiting with fans. This year's celebrity guests include Leatherface, Jason Voorhees, and Alice from Nightmare on Elm Street.
Everhaunt again has partnered with several charities for this season, including Kids Escaping Drugs, Connectlife, and Shine Bright Little Fright.
Everhaunt will be open weekends beginning on October 6th all the way through Halloween Night, and then it's the return of their popular, annual Blackout Terror night on November 4th. Tickets are on sale now.
Check out www.everhaunt.com for dates, hours, and ticket information.
Address: Everhaunt Haunted House 144 Lake Street Angola, NY 14006.
Media Kit is available on Google Drive.
For more information, contact Come Alive Productions at [email protected] or call 716.333.7770/ 716.899.FEAR
Media Contact
Company Name: Come Alive Productions
Contact Person: Kevin Donovan
Email: Send Email
Phone: 716.333.7770
City: Angola
State: NY
Country: United States
Website: www.everhaunt.com